In 1948 an auction was held–no ordinary auction, mind you. This auction marked the creation of what would become one of Virginia's best kept secrets: the beach community of Scotland Wharf.
Captain Jester, who started what is now the iconic Jamestown-Scotland ferry system, was auctioning off some of his land surrounding the vital link between "the Surry side" and the first settlement of Jamestown. From a historical perspective, there could be no better use for such land; after all, the land where this beach community and ferry came to be was none other than land from the original 17th century grant given to John Rolfe, the husband of Pocahontas. Just as the Rolfe land grant forged a tentative link between the Powhatans and the English settlers, so this spot would connect two historic Virginia communities. Just minutes beyond Jamestown sat Williamsburg. Without a bridge for miles, this sleepy, rural county of Surry was set to become a key link between the two sides of the James River.
Parceling out the land in small lots for the creation of an intimate community, a few dozen lucky families, mostly from nearby Petersburg and Colonial Heights, looked forward to the coming post-war prosperity and jumped on the opportunity to purchase their little slices of beach paradise. Captain Jester, along with the excited prospective buyers, walked from lot to lot in anticipation as the Captain described each parcel.
My parents were among them. When the auction bell chimed in 1948, my parents and two sets of aunts and uncles were there, and when the auction closed that evening, the three couples were each the proud owners of a piece of history.
What is now our fabulous mid century modern cottage was a ramshackle shack when my parents got the keys in 1948. No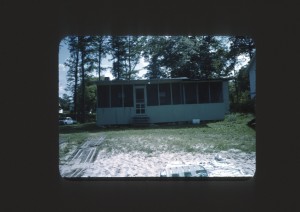 plumbing, no air conditioning, but a dream for them–don't worry, we've updated it quite a bit since then!
Flanked on either side by lots of empty land, the two sets of aunts and uncles prepared to build their dream retreats. By the early 1950s, two quaint, perfect cinderblock houses sat with my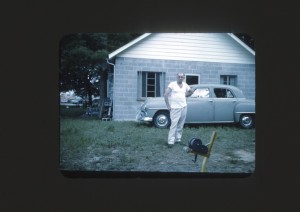 parents place in the middle. So began our family's destination for decades to come.
Now, nearly 70 years later, they are all still in the family. Through chance and circumstance, all three have come under my care, and now it is now my privilege to share this amazing spot with you!